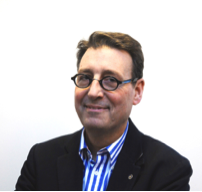 Eric Toudy, President, CEO & Chairman
From the world of management consulting to business unit management, from network management to project management, at national and international level, as well as insurance, asset management and private banking, his knowledge and skills moved him regularly and progressively towards private wealth management*. In his capacity as member of the Board of Directors of the Banque Postale Wealth Management like CEO responsible for strategy development,, also in charge of compliance of this organisation, a personal event led him to decide to create Delos & Coeos, an art and culture management plateform.
It makes it possible, by its unique service offering : le 26, opening up the art market thanks to an accurant and regular support delivred jointly with personnal financial planners to the clients. Its contribution was quoted in Artifcial Intelligence report written by Cedric Villani, mathematician, medal Fields winner, presented to the French Prime Minister in march 2018.